Do we buy 'stationary' or 'stationery'?
Did he 'lose' or 'loose'?
Is it 'their' or 'there'?
There are too (not '
two'
or '
to'
- don't they all sound the same?) many homophones in the English language. Add to that the long list of confusing and tricky words. A lot of us make mistakes in using the correct word in our written communication.
Here is an opportunity for your child to explore the fascinating world of homophones, confusing and tricky words. A fun way to familiarize them with the concept and learn some easy ways to remember the common ones.
Batch 1
(28th - 30th Dec 2020)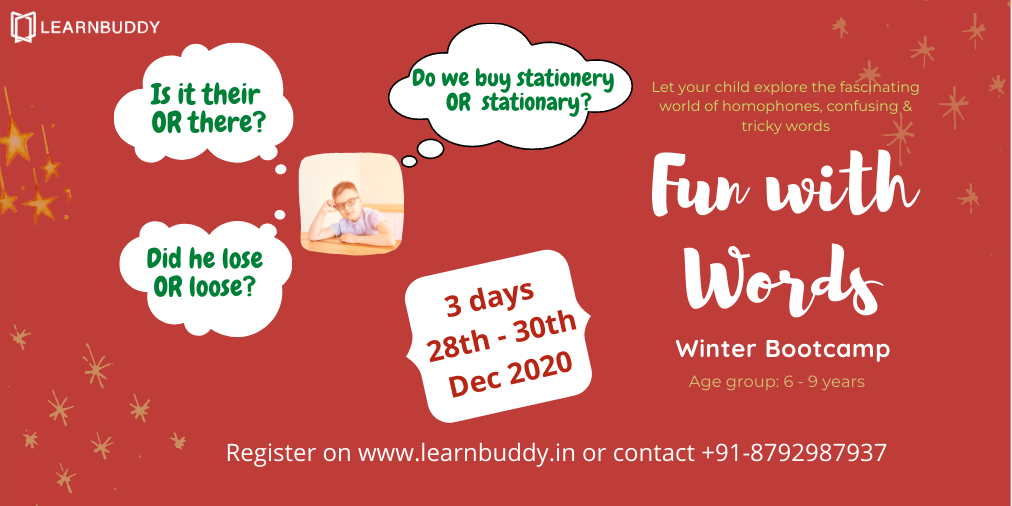 A good understanding of this concept in their foundation learning years will ease it out for them and make it fun. It will equip them to avoid these mistakes now or in the future.
Key Features

---
3 Highly Engaging Live Classes
20 Online practice worksheets to reinforce learning
Assignments and discussions that spark thoughts
Gamified online activities to have fun (while learning)
Quizzes for a healthy competitive spirit
Grade sheet for parents to keep track of performance
Buddy Coins for constant motivation
Small batch size for interaction & personal attention
Guidance and constructive feedback throughout
Fun with Words - Learning Plan

---
Live Online Session
The live sessions are designed in a fun and engaging way. Children get ample opportunity to interact, respond, clarify and absorb the concepts. Moreover, each session is followed by an assignment that children need to submit - not a tough one but thought provoking and ensuring retention of concepts. Assignments will be graded and constructive feedback will be provided for improvement. Following concepts will be covered during the camp:
Concept of homophones
Usage of homophones
Common confusing and tricky words
Online Worksheets and Activities
'Practice makes a man perfect.' The concepts taught in the live sessions are well supported with 20 self-practice online worksheets that can be attempted multiple times.
20 online worksheets to practice application of homophones and confusing words (200+ sentences) will be included as a part of this program. The student will be able to access Online Worksheets for 30 days post the completion of the program.
Course Creator
---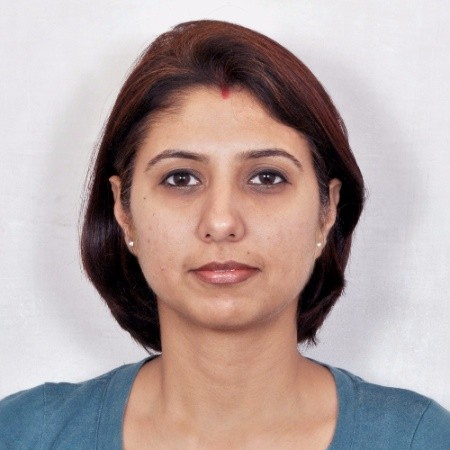 Surbhi Malhotra
Surbhi is highly energetic and is loved by children for her creative and fun ways to engage them. She has over 20 years of experience in learning and development sphere with a strong background in instructional design. She has worked closely with an esteemed English teacher with 34 years of teaching experience to design this interactive program.
Frequently Asked Questions

---
1) Can I attend these sessions from my mobile device?
For live classes, we recommend children to use a desktop/laptop computer with a high-speed Internet connection.
2) What is the batch size of the Fun with Words program?
For group session, we keep a small batch size between 4-6 students.
3) What will be the medium of instruction?
All our sessions are in English unless specified.
4) If my child misses one of the sessions, will you offer a repeat session?
We recommend not to miss any session as group activities cannot be performed for individual sessions.
Feedback from Earlier Participants
---
Very well researched content and interactive sessions with proper explanation of each concept. Very friendly teacher with fun way of teaching and making kids learn through stories.

Parent of 8 yr old


---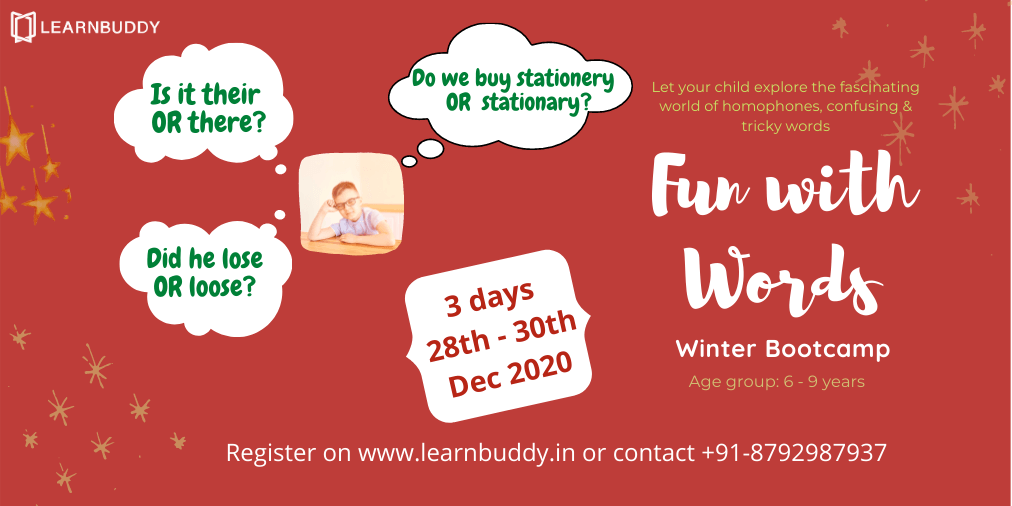 28-30 December  ||  3 Live Sessions  ||   20 Online Worksheets  ||  Age: 6-9 Yrs  ||  Rs 749 +GST